To learn more about our department and the world-class services it offers, visit the pages listed below:
Cornell Kicks Cancer, a team from the Division of Gynecologic Oncology led by division chief Dr. Kevin Holcomb and team captain Karie Weissman, was the top fundraiser at the recent 8th Annual T.E.A.L. Walk/Run Read more here.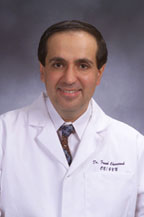 Dr. Frank Chervenak, Given Foundation Professor and Chairman, Obstetrician and Gynecologist in-Chief, was recently named chair of the Ethics Committee of the International Federation of Gynecology and Obstetrics (FIGO). FIGO is the largest international organization of obstetricians and gynecologists in the world.
To find a physician click here or call (646) 962-2620.